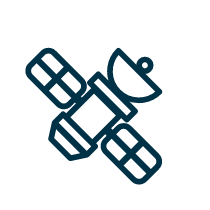 CryoSat, ESA's ice mission, is dedicated to measuring the thickness of polar sea ice and monitoring changes in the ice sheets that blanket Greenland and Antarctica. It was the first of ESA's Earth Explorer missions to be selected in 1999 and is Europe's first ice mission.
The mission
The go-ahead to build and launch the second CryoSat mission came in February 2006 after the loss of the first CryoSat satellite in October 2005 due to launcher failure.
The mission's objectives remain the same as before – to measure ice thickness on both land and sea very precisely to provide conclusive proof as to whether there a trend toward diminishing polar ice cover, furthering our understanding of the relationship between ice and global climate.
The CryoSat-2 Flight Control Team (FCT) works in a Dedicated Control Room located at ESOC, Darmstadt, Germany.
Everyone at ESOC watched in profound disappointment as the first CryoSat mission, launched 8 October 2005 on a Rockot launcher, ended in failure; CryoSat was totally lost just a few minutes after launch and before the ESOC Mission Control Team had a chance to acquire control of the satellite.
Although CryoSat-2 is in theory a rebuild there are plenty of challenges to keep the team busy, including over 80 changes to the satellite as well as new hardware and software available for the ground control systems and new members in the team. All the elements were revalidated and tested prior to the new launch date, so that the Flight Control Team was equally prepared as the last time to look after command and control, on-board software maintenance and mission planning, as well as interfacing with other ESOC teams, including Flight Dynamics, Ground Facilities and Software Support.
Since launch on 8 April 2010, the FCT have been working on maintaining and operating the spacecraft through the commissioning phase into the routine operations phase.
Mission operations overview
CryoSat-2 was launched at 15:57 on 8 April 2010.
The platform and payload
CryoSat-2's primary payload is the SAR/Interferometric Radar Altimeter (SIRAL), which has extended capabilities to meet the measurement requirements for ice-sheet elevation and sea-ice free board.
CryoSat-2 is also carrying three star trackers for measuring the orientation of the baseline. In addition, a radio receiver called Doppler Orbit and Radio Positioning Integration by Satellite (DORIS) and a small laser retroreflector ensures that CryoSat-2's position will be accurately tracked.
Unlike most satellites, CryoSat does not have any deployable solar panels; in fact the satellite has no moving parts at all, except for some valves in the propulsion system.
This has enabled a very significant cost saving, but does pose some problems for the provision of adequate solar power in Cryostat-2's unusual orbit. The solar panels are rigidly fixed to the satellite body, forming a "roof" with a carefully optimised angle, which provides adequate power under all orbital conditions and still fits within the launch vehicle.