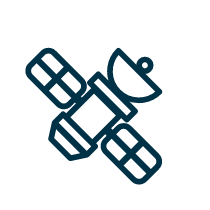 Sentinel-1A is the first half of the Sentinel-1 mission, which also includes the identical satellite, Sentinel-1B.
Sentinel-1 is the first Sentinel in the family of Copernicus satellites designed to deliver a wealth of data central to Europe's Copernicus programme. As a constellation of two satellites orbiting 180° apart, the mission images the entire Earth every six days.
As an advanced synthetic aperture radar (SAR) mission, Sentinel-1 can image the surface of Earth through cloud and rain regardless of whether it is day or night. This is particularly useful for monitoring areas prone to long periods of darkness – such as the Arctic – or providing imagery for emergency response during extreme weather conditions.
The mission assists the monitoring of Arctic sea ice, routine sea ice mapping, oil-spill monitoring, ship detection for maritime security, monitoring land-surfaces, surface mapping for forest, water and soil management and mapping to support humanitarian aid and crisis situations.
ESOC teams operate a number of the Sentinel satellites using the a cooperative network of ground stations. This global cooperation allows all agencies to make use of a wide number of ground stations in geographically advantageous locations, maximising efficiency and enhancing scientific returns for all.
Read more about the Sentinel-1 mission here.