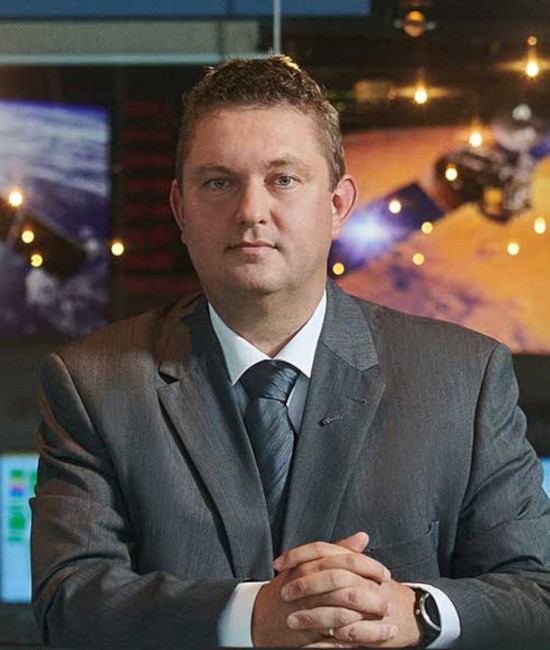 Simon Plum
Head of the Mission Operations Department
Past Activities:
Simon began his career in 2003 at EADS Defense & Space as a Software Developer. He was in charge of designing and implementing software for pre-studies related to military unmanned aircrafts.
In 2005, he moved to the German Aerospace Center (DLR) in Oberpfaffenhofen as part of the Galileo Operations Department as Operations Engineer in charge of launch preparations for the Galileo spacecrafts and the In-Orbit validation campaigns, the conceptual design of ground operations facilities for the German Galileo Control Center and the generation of operational concepts for security operations. In parallel, he was Operations Manager of the GATE system (Galileo Test- and Development Environment), responsible for the overall project management and the technical staff, strategic planning and the future development in particular for operational phases as well as for test and commissioning activities.
In 2009, Simon became Security Operations Engineer at the Directorate of Navigation at ESA, Noordwijk, where he coordinated and conducted operational launch preparations with a focus on telecommunication and security of the Galileo spacecraft families. He was the technical lead of security operations in charge of S-band, C-band and Lband encryptions and held an expert role in the cooperation with national security agencies amongst others.
Simon returned to DLR in 2012 and became Deputy Department Head at the Project Management Agency of DLR in Cologne. In this role, he provided consultancy to the German Federal Ministry for Education and Research as well as industry in the area of international research and development (R&D) projects. He continued his career as Senior Strategic Manager in the Space Research and Development Division, where he led the development and implementation of strategies for DLR research and development institutes and the planning and coordination of the antenna sector strategy of DLR. In addition, Simon has been leading the Controlling, Financial Planning and Risk Management for several DLR entities such as the German Space Operations Center (GSOC), the German Remote Sensing Data Center (DFD) or the Remote Sensing Technology Institute (IMF) to name a few.
Present Activities:
In 2015, Simon became the Managing Director of Spaceopal GmbH in Munich, overseeing the overall project management as well as the technical performance and organisation of the company. Under his leadership, Spaceopal won the GSOp (Galileo System Operator) tender for managing the operations of the European Galileo satellite positioning and navigation programme, with a value of more than 1 billion euros.
A bit more than 10 years after his first assignment at DLR Oberpfaffenhofen as Operations Engineer, Simon returned as Managing Director of the organisation. He was now responsible for the overall management of DLR including financial matters, contract negotiations, strategic aspects of the Galileo operating segment and the collaboration with stakeholders. He also held the position of Head of the Galileo Control Center.