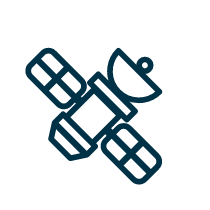 The first of its kind, ESA Vigil will monitor our active and unpredictable Sun to protect vital infrastructure on Earth and in space as well as human space explorers from its violent outbursts.
ESA Vigil will be the first of its kind. By keeping an eagle eye on the 'side' of the Sun, the spacecraft will stream a constant feed of near real-time data on potentially hazardous solar activity, before it rolls into view from Earth. 
The mission will give us advance warning of oncoming solar storms and therefore more time to protect spacecraft in orbit, infrastructure on the ground and explorers now and in the future, unshielded by Earth's magnetic field and vulnerable to our star's violent outbursts. 
Formerly known as the "Lagrange mission", ESA Vigil takes its name from the Latin 'vigilis exceptus' meaning sentry, and 'vigilia' meaning wakefulness and the act of keeping a devoted watch.

Vigil will orbit the Sun at the fifth Lagrange point of the Sun-Earth system.
Launch is planned for the mid-2020s.
A cornerstone mission of ESA's Space Safety Programme
We are now reliant on interlinked technologies, in space and on Earth, for our everyday lives. But this infrastructure is vulnerable. Solar storms can damage power grids, disrupt telecommunications and threaten human space explorers, satellites and the vital services they provide. 
The missions and services developed in ESA's Space Safety programme aim to ensure the resilience of technologies on which modernity depends. By detecting and providing advance warning of oncoming solar storms, we can protect our infrastructure in space and on the ground. By fostering the sustainable use of orbits around Earth – a finite and limited resource – we can ensure the benefits of space will remain accessible to future generations.
Industrial opportunities and space weather services
The Space Safety Programme supports European industrial activity in space safety domains via its dedicated "competitive element", through which private business initiatives can be matured, de-risked, or supported by ESA as an anchor tenant.
At ESA's 2022 Space Safety Industry Day, the European space industry met with the Vigil team to discuss opportunities for industrial leadership on Vigil and the other missions in the Programme. In recent years, it has also become apparent that services, sensors and downstream products in the Space Safety domain have significant commercial potential.
Europe has a wealth of expertise and assets providing high-quality scientific observations, results and models in the domain of space weather, together with a growing number of space-weather 'products' – processed, usable data – which are being used by customers across Europe, in industry, government and research institutes. 
ESA's Space Weather Service Network builds firmly upon this foundation to implement a federated European Space Weather service provision concept, avoiding duplication and ensuring that these existing assets and resources play a key role in Europe's new coordinated space weather service provision system.
The Network was established on a test and demonstration basis. As such, service support was made available during normal office hours only. As part of the Space Safety Programme, the service provision system will be further developed and steps taken to transition the Network towards an operational framework, providing information to impacted users whenever it is most needed.
The data gathered by the instruments on Vigil will make important contributions to this Network.
How Vigil got its name
ESA's Vigil mission was once known by the placeholder name, "Lagrange". The Agency ran a naming competition from May to September 2021 in which members of the public from ESA Member or Associate Member states could submit their name suggestion for the future space weather mission.
5422 thoughtful, clever and funny names were submitted. Once submissions closed, a team from ESA's Communication department and Space Weather Office reviewed all submissions and presented a shortlist of the best nine names to a panel.
To cement the most appropriate mission name, ESA invited a trio of external judges to form this panel and decide on behalf of Europe and its citizens. The judges, experts in their varied and diverse fields, chose the winning submission during a lively, two-hour video chat in which they made the case for their favourite and deliberated the merits of each. Finally, they agreed on a winner: ESA Vigil.
In Latin, 'vigilis exceptus' means sentry, or guard, while 'vigilia' means wakefulness and the act of keeping a devoted watch. The judges were particularly impressed with how the name resonated with the mission's role – as a devoted guardian, keeping constant watch over the Sun, for Earth.