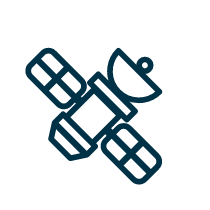 A flying laboratory, ESA's OPS-SAT is the first of its kind, with the sole purpose of testing and validating new techniques in mission control and on-board satellite systems.
OPS-SAT is devoted to demonstrating drastically improved mission control capabilities, that will arise when satellites can fly more powerful on-board computers. The satellite is only 30cm high, but it contains an experimental computer ten times more powerful than any current ESA spacecraft.
Processing platform
The heart of the OPS-SAT satellite payload is the processing platform, which is responsible for providing a reconfigurable environment able to fulfil the objectives of each experiment. The processing platform runs Linux, as the operating system consists of a flexible and reconfigurable framework, featuring sophisticated processing capabilities, interfaces, memory integrity and reconfigurable logic.
The platform consists of an 'Altera Cyclone V SoC' with an ARM dual-core Cortex-A9 MPCore and a Cyclone V FPGA. OPS-SAT experimenters will provide bootable images for this processing platform. These images will undergo certain pre-checks before loading to the spacecraft. Power consumption and temperature of the processing core will also be monitored by the on-board computer to provide additional safety mechanisms.
Fine Attitude Determination Control System (ADCS)
An integrated fine ADCS will provide the experimenters with access to sensors and actuators as well as integrated attitude control functionality. It consists of gyros, accelerometers, magnetometers, reaction wheels, three magnetorquers and a Star Tracker.
Project status