New ESOC GNSS station in Costa Rica
Located at ESOC, ESA's Navigation Support Office is the Agency's centre of expertise for Precise Navigation.
The core service of the Office is calculating and predicting highly accurate satellite orbits and clocks for all global and regional Satellite Navigation Systems (Galileo, GPS, GLONASS, BeiDou, QZSS and NavIC), as well as precise orbit determination for user satellites ranging from Low Earth Orbits up to the Moon. The services and products are provided in non-real time and also in near real-time. 
The Office uses these data to provide products and services that support ESA missions, European customers such as Eumetsat and worldwide customers through its participation in the International Global Navigation Satellite Systems Services (IGS).
The accuracy of the data produced by the team at ESOC is in the lower cm range for non real-time and lower dm range for real-time, corresponding to a timing accuracy in the order of 0.1  nanoseconds. These precise and accurate timing data are vital for a wide range of space applications. The data are used by customers ranging from national weather offices and satellite operators to research organisations to universities. These customers use the data to conduct scientific studies, large-scale climate monitoring, tracking of long-term changes in Earth's geology, and much more.

 
EGON – ESA'S GNSS Observation Network
The activities of the Navigation Support Office strongly rely on a global network (EGON) of ground-based GNSS sensor stations, each of which hosts a high quality GNSS receiver and antenna. Observation data is sent both in real time and in near-real time from the stations to the Office's headquarters at ESOC in Darmstadt, Germany, where the products and services are developed. 
All stations are under the control of the ESOC's Navigation Support Office, whereas the hosting is provided by either ESA's Estrack stations, or by third parties with which separate hosting agreements have been established.
Image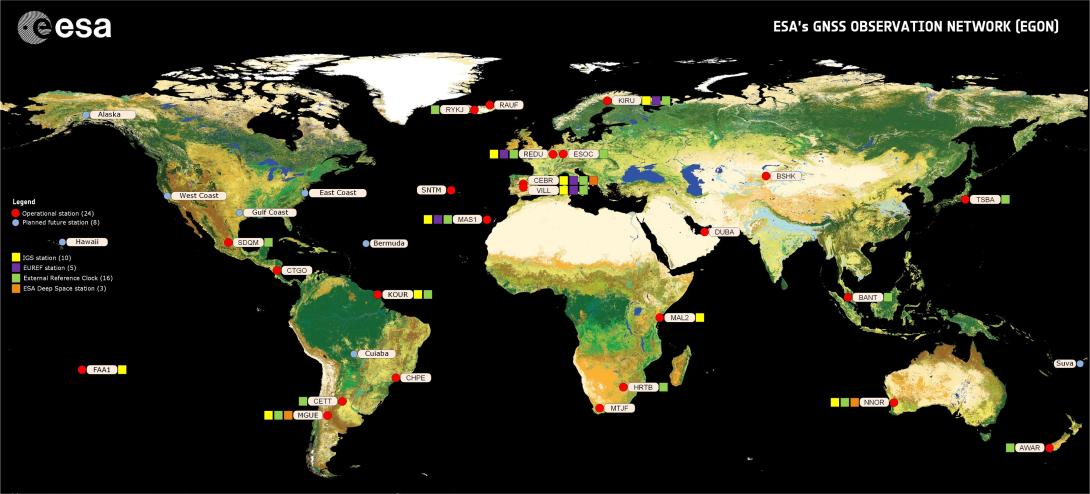 The new GNSS station 'CTGO'
The latest addition to the Navigation Support Office's EGON network was established in Cartago, Costa Rica, and was declared operational on 29 May 2022. The GNSS antenna is mounted on a steel plate that is drilled into the wall of the rooftop of the School of Electronics Engineering on the campus of the Costa Rica Institute of Technology (ITCR).
ITCR – a university specialising in engineering and advanced science and research – manages the site and a collaboration between ITCR and ESOC was first established in June 2021.
The new GNSS station "CTGO" is the first EGON station to be installed in Central America, and bridges the gap between the existing EGON stations SDQM in Mexico and KOUR at ESA's spaceport in French Guyana, ensuring a greater depth of coverage for this region 
The station operates a Septentrio PolaRx5 receiver and Septentrio PolaNt Chokering antenna, providing multi-frequency and multi-constellation (also known as multi-GNSS) tracking from this location: GPS, GLONASS, Galileo, Beidou and QZSS.
Find out more about the activities and services of ESOC's Navigation Support Office.