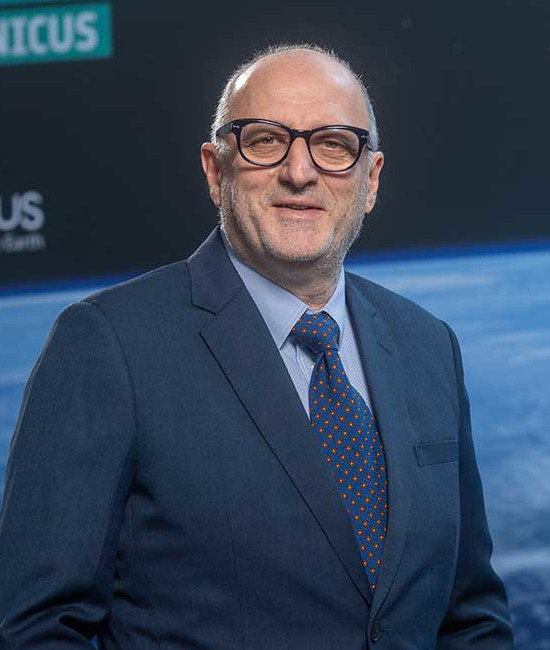 Alfio Mantineo
Head of OPS Product Assurance and Safety Office
Past Activities:
In 1987 he completed his studies as staff officer in the Italian Air Force Academy and at the University of Naples "Federico II" with a master's degree in electronic engineering in the area of computer science.
Before joining ESA Alfio Mantineo was a Major of the Italian Air Force working in different Quality and Technical positions in the ICT domain in the Italian Air Force and NATO.
Present Activities:
Alfio Mantineo joined ESA in 1998 for the set-up and the implementation of the Quality Management System for ESOC and the ESTRACK stations achieved in 1999 with its ISO 9001 registration. The activity has progressed with the extension of the QMS to adapt to the evolution of OPS / HSO over the years expanding it to cover the area of Facility Management and Human Spaceflight. In 2013 the Quality Management System was integrated with the Information Security Management System and certification toward ISO 27001 was achieved. In this context the Business Continuity Plan of OPS was created. In 2017 the QMS was certified against the AEROSPACE Quality Management Standard (EN9100) Representative since Oct 2015 of ESA in the International Aerospace Quality Group (IAQG) and member of the IAQG Space Forum and the IAQG 9100 WG (enhanced standard for Aerospace based on ISO 9001)
Duties:
Product Assurance and Safety Office is responsible for the implementation, maintenance and improvement of the OPS Quality Management System/ Information Security Management System (QMS/ISMS) and the PA&S function in projects, operations and Programmes of the Directorate. This is quite visible in terms of audit organization internal and external, problem analysis, lessons learned collection, performance indicators with the goal of keep improving our core processes and adapt them to the evolution of ESA activities and ensuring that ESOC is up to its centre of excellence reputation.
Additional duties strictly linked to the core responsibilities are:
OPS Business Continuity Plan definition and implementation.
OPS Information Security Officer interfacing with the ESA security Office
OPS Directorate Information and Records Officer
Point of Contact in OPS for the ESA Personal Data Protection policy implementation