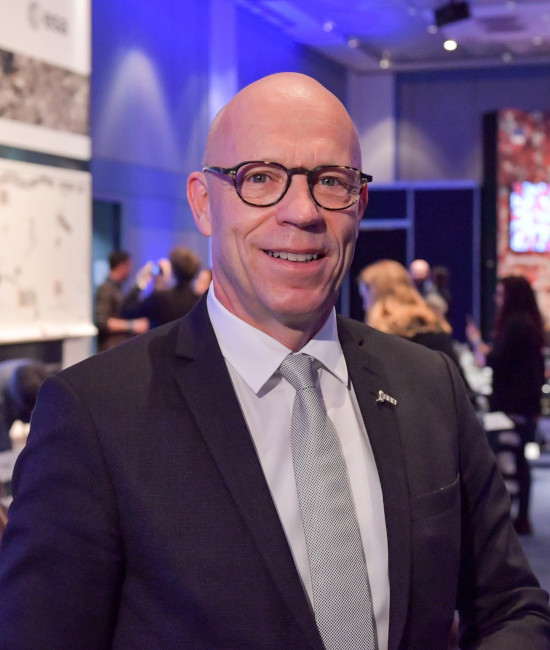 Rolf Densing
Director of Operations
Roles and Responsibilities:
Rolf Densing took up duty as Director of Operations (D/OPS), and Head of ESOC, in Darmstadt, Germany, on 1 January 2016.
Rolf Densing has been working in the space sector for more than 25 years. He graduated with a doctorate in physics from the University of Bonn in 1988. After completing his studies at the Max Planck Institute for Radio Astronomy, he began his scientific career as Assistant Professor of Electrical Engineering and Physics at the University of Virginia in Charlottesville, USA.
Past Activities:
From 1992 to 1995, he worked as a project manager in the space science programme of the former German space agency DARA (now DLR, the German Aerospace Center). Among other things, he worked on a series of scientific missions with the German Astro-SPAS platform, which flew on several Space Shuttle missions.
In 1996, Rolf Densing took on a managerial role as US Representative in the DARA/DLR Washington Office, then three years later he moved to DLR headquarters in Cologne as Head of the Executive Office. From 2003 onwards, he headed the ESA Affairs department at the DLR Space Administration until the DLR Senate appointed him Director of Programmes in 2009.
Before joining ESA, Rolf Densing was the Director of Space Programmes at the DLR Space Administration, where he was responsible for Germany's involvement in the ESA's research, technology and infrastructure programmes. He contributed to national space strategy at programmatic and policy level, including the evolution of space operations centres in Germany.