New collaboration Oxford Saïd Business School and ESOC
Saïd Business School of Oxford University Associate Fellows collaborate with ESA's European Space Operations Centre (ESOC) to drive organisational impact in the rapidly evolving space sector.
Facilitated by Artur Palowski, Innovation Officer at ESOC, this strategic partnership with Oxford Saïd Associate Fellows professor Eamonn Molloy and Michele Scataglini aims to explore and capitalise on opportunities for enhancing ESOC's organisational impact within the dynamic space sector. The collaboration holds great promise for creating added value for ESA Member States and the global space community.
As ESA's centre for space operations, ESOC is at the forefront of space operations and exploration and plays a crucial role in orchestrating space missions, scientific discoveries and technological advancements. Recognising the ever-changing landscape of the space industry, ESA is committed to embracing innovation and adaptability as essential pillars for success while nurturing its exceptional talent.
Oxford Saïd Business School is renowned for its academic excellence in business and strategic management and brings a wealth of expertise in driving innovation and fostering a culture of continuous improvement. Prof. Eamonn Molloy and Michele Scataglini, Associate Fellows of the school, contribute extensive experience and fresh perspectives to this transformative collaboration.
Agility and innovation key in space sector
The collaboration between ESOC and Oxford Saïd will feature a series of workshops with ESOC experts, providing a platform for engaging discussions, idea-sharing and strategic planning. These interactive sessions will lay the foundation for developing innovative approaches to seize opportunities within the space sector, particularly in the areas of operations and safety.
Additionally, ESOC-wide dissemination events will ensure that the knowledge, insights, and outcomes of the collaboration permeate throughout the entire organisation, fostering a unified commitment to innovation and agility.
Focus areas of the collaboration:
Enhancing strategic agility
Leveraging strategic management insights from Oxford Saïd Business School, ESOC aims to enhance its ability to swiftly adapt to dynamic market trends and evolving space industry demands.
 
Fostering innovation
By combining ESOC's technical expertise with Oxford Saïd Business School's innovative methodologies, the collaboration seeks to identify novel ways to maximise the potential of emerging technologies and business model innovation.
 
Maximising value for ESA Member States
Through joint efforts, ESOC and Oxford Saïd Business School aim to maximise the value provided to ESA Member States, nurturing talent, fostering knowledge transfer, and capturing valuable insights that can be leveraged by national space agencies.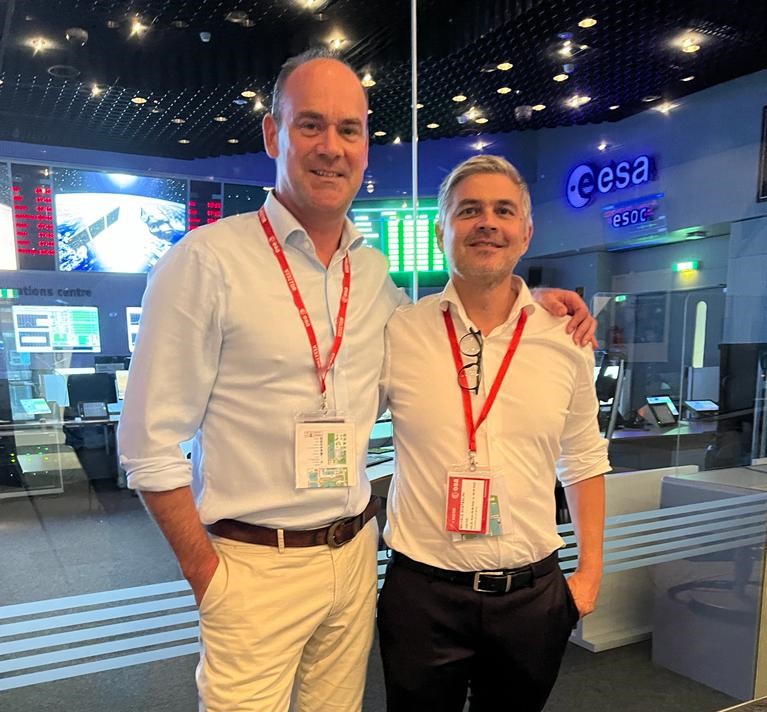 Professor Eamonn Molloy and Michele Scataglini in the Main Control Room at ESOC
Artur Palowski, ESOC Innovation Officer at ESA, expressed his enthusiasm about the collaboration. "This collaboration presents an exceptional opportunity for ESOC to leverage the expertise of Prof. Eamonn Molloy and Michele Scataglini, who will bring novel perspectives and state-of-the-art methodologies. Through our commitment to innovation and agility, we strive to unlock new opportunities to advance ESA's missions and maximise value to our Member States."
Prof. Eamonn Molloy says, "We are honoured to collaborate with ESA ESOC, an organisation at the forefront of space exploration." Michele Scataglini adds, "Innovation is the cornerstone of progress, and we look forward to working alongside ESA ESOC to infuse innovation across the organisation."
The collaboration commenced on 22 June in Darmstadt, with the first series of workshops and an internal launch event. This provided an opportunity for ESA ESOC representatives, Prof. Eamonn Molloy, Michele Scataglini and Artur Palowski to share insights into the joint vision and the anticipated outcomes of this partnership.
For further information, please contact esoc@esa.int 
About ESA's European Space Operations Centre - ESOC
As Europe's centre of excellence for satellite operations, ESOC is home to the engineering teams that control spacecraft in orbit and build the systems on the ground that support missions in space. It is also home to ESA's Space Safety programme, protecting our Earth from space debris, space weather and near-Earth objects.
 
About Oxford University's Saïd Business School
Saïd Business School is part of the University of Oxford. The school provides management education and is consistently ranked as one of the world's top business schools. The school delivers world-class research, teaching and coaching, where they share their unique and valuable insights into some of the most significant challenges facing business and the world today, inspiring an appetite to create and realise change, enabling business leaders to lead with purpose.
 
About Prof. Eamonn Molloy
Eamonn Molloy is the Fellow in Management Studies at Pembroke College, University of Oxford and Associate Fellow of Saïd Business School. His research and teaching focus on the design of complex, high technology and autonomous organisations in the public and private sector.
 
About Michele Scataglini
Michele Scataglini is Associate Fellow at Saïd Business School, University of Oxford. His career focus is on strategic innovation, nascent market formation and economic development, advising both public agencies and large corporations. He is one of the senior researchers at the Oxford Space Initiative where he leads several research projects on emerging space ecosystems. 
 
About Artur Palowski
Artur Palowski is Innovation Officer at ESA's European Space Operations Centre in Darmstadt, Germany. His leads the Directorate of Operations' innovation matrix organisation and manages the funding allocated to innovation. Prior to joining European Space Agency, Artur was based in Poland and worked for Deloitte Monitor, a strategy consulting company.