Image: SpaceOps 2023 attendees from ESA's Space Operations Centre
SpaceOps 2023 was an energising, week-long whirlwind of interesting sessions and exciting discussions about the latest developments in space operations and ground systems, including topics related to space safety. This year, an impressive number of prestigious SpaceOps awards were received by team members from ESA's Space Operations Centre (ESOC).
Hot topics at SpaceOps 2023: growth and space sustainability
The space operations community continues to grow along with the space sector overall, and so did SpaceOps. Next to meeting new actors on the scene, there were also various areas of research and technology development with a new or increased presence, such as optical communication technology and artificial intelligence applications. 
The abundance of sessions across all topics discussing AI technologies was perhaps the most telling change, showing its far-reaching potential. Our colleagues presented many AI-related papers in various fields, demonstrating ESOC's progressive application of these paradigm-shifting approaches to innovation in space operations. 
Another recurring theme across the conference was space sustainability. Mission operations have to respond more frequently to challenges posed by space debris and increased solar activity, as well as work within the constraints caused by low Earth orbit (LEO) getting increasingly crowded. 
Alexi Glover, Space Weather Service Coordinator at ESA, chaired the plenary session 'Space Traffic Management – Needs and Solutions', where panellists shared their view on the questions of overpopulating LEO, the risks of increasing the number of collision avoidance activities and the need to enforce regulations. A discussion took place that explored future needs and potential solutions.
The variety of missions flown from ESOC combined with a view to future technologies stimulates the continuous development of new technologies and mission operation approaches, including new industry standards these are defining. Colleagues presented milestones achieved and challenges overcome both by Earth Observation missions like the Swarm constellation of satellites and the Sentinel missions as well as an interplanetary update of BepiColombo on its way to Mercury. 
The development of operations concepts for new missions which are scheduled to launch over the next years were also introduced, like the Hera mission analysing the impact of NASA's DART mission from up close, and the Plato and Ariel exoplanet missions which are part of ESA's Cosmic Vision programme.  
ESA colleagues contributed to numerous other sessions, papers and presentations, and were able to meet with their colleagues again from across the world, making SpaceOps 2023 a resounding success even before the SpaceOps 2023 awards were presented.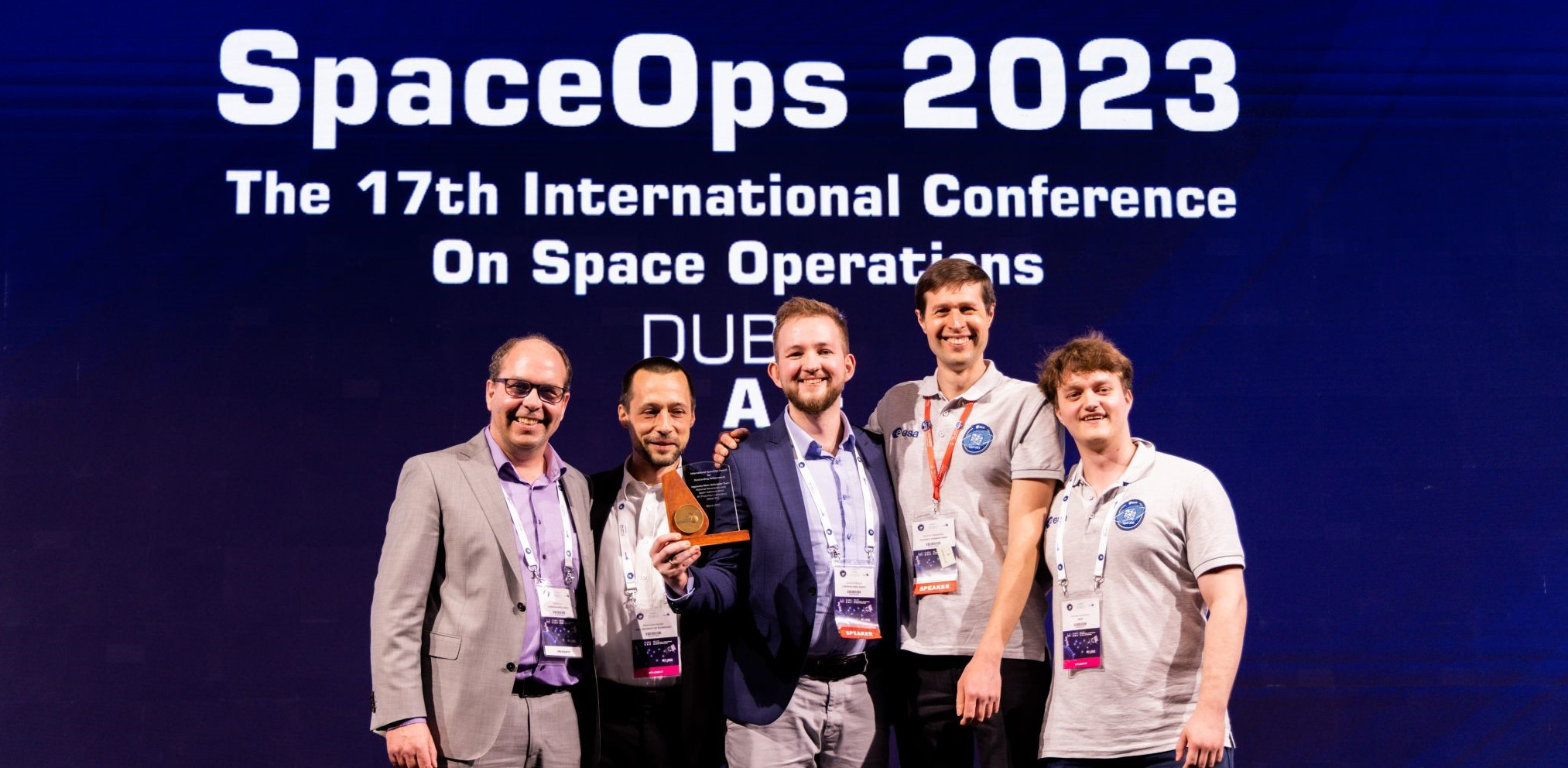 The OPS-SAT team received the SpaceOps Award for Outstanding Achievement
SpaceOps Awards won by ESOC team members
On the final day of the conference, the 2023 SpaceOps awards were presented to the winners by Greg Marlow, the SpaceOps Awards Group Chair. An impressive four of them were awarded to colleagues from ESA's space operations centre ESOC: 
The OPS-SAT Mission Control Team led by David Evans received the SpaceOps Award for Outstanding Achievement for creating a 'flying laboratory', the first open, in-orbit testbed for new satellite software and applications with experimenters that range from universities and international space agencies to big and small companies in the space sector.
Gian Paolo Calzolari received the SpaceOps Appreciation Award in recognition of his exceptional dedication and effective contribution to the SpaceOps organisation during his 9-year tenure.
Johannes Schoenmaekers was presented with the SpaceOps Exceptional Achievement Medal for his exceptional advancements in the area of manoeuvre optimisation and mission analysis, and his outstanding contributions to international cooperation.
Paolo Ferri might be retired, but he's still very much a part of the space operations community at ESOC and beyond. He received the SpaceOps Lifetime Achievement Medal for being a life-long true ambassador and a recognised authority of space mission operations and international collaboration in the domain of space missions.
ESA is an Executive Member of SpaceOps, the unique international forum organised every two years, offering a valuable opportunity for international exchange on all current space operations topics.